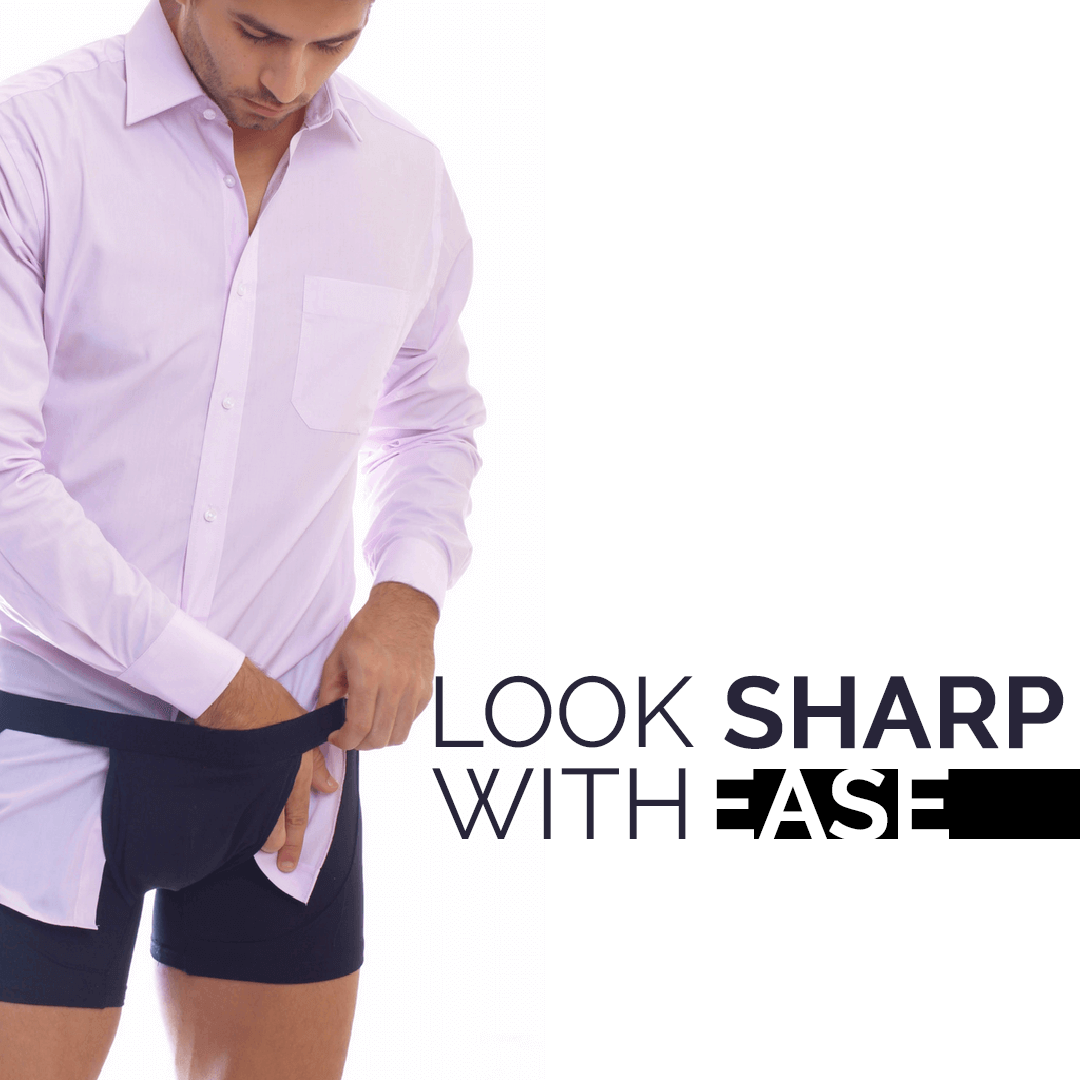 Best shirt stays to keep your shirt tucked in
One of the most important things to every fashionable man is that they look absolutely sharp. Unfortunately, shirts become a bit of a hassle to manage. Because shirts are hardly customized to our fit, it's quite a challenge to keep them tucked in at all times. So, every time you notice them getting loose or tucked out from either side, you need to excuse yourself to tuck it in. And that's quite inconvenient.

Is there a better solution to it? — You might wonder. And the answer is yes! There are many options ranging from shirt stays to the latest innovative boxer briefs in 2020 specifically designed to keep your shirt tucked in.
In this article, we will have a look at the various shirt stays options that exist today. But before that, let us answer what shirt stays really are?

Shirt Stays are devices that contain elastic material in a way that your shirt stays neatly positioned and tucked in. The elastic is attached to the end of your pants or to your socks at one end and to the bottom part of your shirt on the other end. This elastic pull at both ends keeps the shirt exactly in place.

Though mostly used in military dressing, shirt stays can be useful for anyone wanting to keep their shirt tucked in at all times.

Now let's dive into what kind of shirt stays are there so that you can decide which one will be best for you too.
1. Tucked Trunks Boxer Briefs
What are Tucked Trunks boxer briefs? Simple. They are a pair of boxer briefs that also perform the function of keeping your shirt neatly tucked in. The boxer briefs consist of a dual waistband, multi rubber grip on the inner waistband and a security button feature on the front which interlocks with the last button of your dress shirt, aiding you in your every movement while keeping your look sharp, effortlessly. Grab your trunks each morning, tuck and go, it's that simple.
Are you here from Pinterest? Give Tucked Trunks a try and enjoy this special code for our Pinterest readers only! Use code: BLOG15 and get 15% OFF any pack of your choice!  

2. Straight Shirt Stays 
This is the most basic kind of shirt stay and also one of the cheapest. This usually comes in a set of four elastic ribbons which have clips at both ends. 
Each leg will have two shirt stays. Each shirt stay gets attached to the tail of the shirt. One from the front and one from the back. It's worn on the outside part of the leg and not the inner side as that is more convenient.
 
This shirt stays might offer inconvenience if the clips have lost grip and unlike Tucked Trunks, shirt stays may also damage the shirt tails of your beautiful shirt because they have to clip onto the shirt whereas Tucked Trunks, uses rubber grip which will not damage your shirt. So, ensure that it attaches firmly on both the ends so that the shirt stays do not slip off (we've all had that happen a few times).

3. Y-Clip Dress Shirt Stays

These are an advancement over the straight shirt stays as they have two clips that hold the shirt in place and on the other end of the elastic, there is one clip to attach with the socks.
 
While this is better than the usual straight shirt stays, they do not offer a significant advantage as the problem of loose clips might create inconvenience here as well. But the overall hold over the shirt is better when using this kind of shirt stay.

4. Stirrup Dress Shirt Stays

The clips on the socks are probably the most inconvenient part of the above two mentioned options. With stirrup dress shirt stays, that part of the problem is taken care of. The bottom part of this category of shirt stays is worn around the leg like a saddle rather than being clipped to it. 

This removal of clips at one end provides some extent of improvement and convenience as compared to above two options. The clips on the above might still cause some problems.

5. Shirt Stay Belt

This option is quite different from above mentioned three shirt stays types. For one, it doesn't have any horizontal elastic extensions and no clips. It's a sticky belt to be worn on top of your shirt and tightened before you put on the trousers.
Since the trouser belt would be placed significantly higher than this sticky belt, the two don't overlap or create any problems. This is because the trousers are worn higher on the waist.

This shirt stay is quite useful if you don't have a lot of time as it is more convenient to wear without having to manage any clips.
More about clip style shirt stays 
Shirt stays are usually fastened to your shirt on one end and to your socks on the other end(or if you have the stirrup version, then you wear them around your feet).
To wear them, just put on your socks, underwear, undershirt, and dress shirt as you would normally do. Make sure you wear socks to at least mid-calf. This makes it easier to clip the shirt stays to your socks and then to the bottom of your shirt.

If you have never worn shirt stays before, do not be surprised at the slight pull you will feel; the tension is supposed to be there. That's what holds the shirt in. After fastening shirt stays on both legs, put on your trousers. Lastly, stand in front of the mirror and look at the difference in appearance that shirt stays make. You can also do the underwear tuck if necessary but, it wouldn't make sense if you can just have a boxer brief do the same job and 10x better like Tucked Trunks.

Despite the number of options available with shirt stays, they remain a comparatively inconvenient option. For instance, there is difficulty in crossing legs and the tension created could be problematic.
There are other options as well that are worth trying. For instance, you can look at a pair of tucked trunks as a convenient option to keep your shirt tucked in.